Dear Community School Families, Friends, and Alumni,
On September 7, 1971, Community School opened on thirty-five acres in a rural Salem setting that had once been the Green Hill Country Club. This September marked our 50th start to the school year and in this edition of Community News, we share, among other things, the highlights, and successes of a school year that our founders never would have imagined when we opened as "an alternative to public school". As their vision took shape during the early years on the Green Hill campus and later on land owned by Hollins University, the "free school" transformed into an institution that would lay the foundation for a half-century of students to become policy makers, artists, doctors, authors, engineers, and more.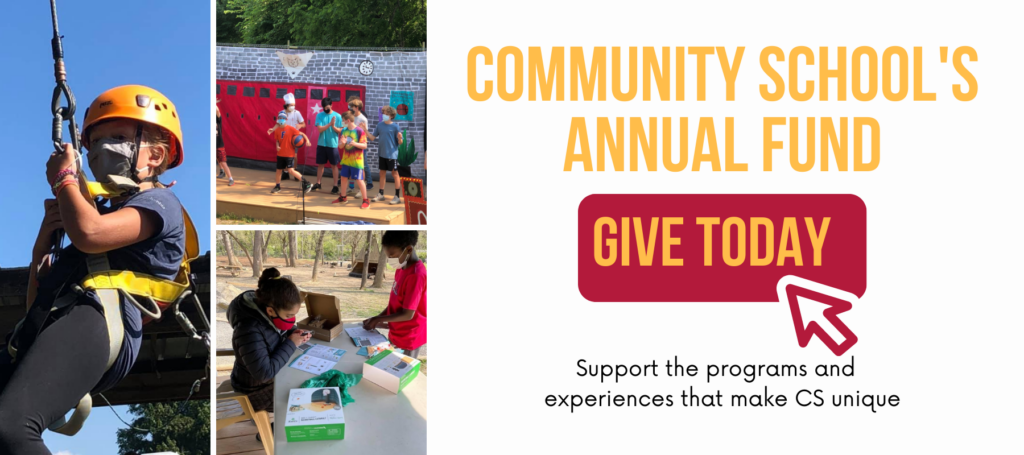 Although the world has certainly changed since 1971 and schools are undergoing incredible shifts in what is necessary content and the most effective delivery of information, we recognize the need for brave, good, and curious citizens to lead us into the future. We work hard to provide accurate and up-to-date historical resources, encourage understanding of current events, give students time to analyze problems and ask thoughtful questions, and remain respectful to new and different points of view. We have been fortunate that our model of education promoted five decades ago as "innovative and flexible" was remarkably adaptable to teaching in a pandemic and allowed us to keep our doors open and the majority of students on campus.
We love hearing how Community School has impacted the trajectory of our students' lives. Your willingness to give back provides critical support for current and future students. Donations last year funded playground upgrades, improved internet access, covered outdoor seating, professional development for staff, increased financial aid, and additional resources for our performing and visual arts programs.
Your gift to the Annual Fund, whatever the amount, makes a difference. Please take the time to give today.
With gratitude,
Linda P. Roth
Executive Director